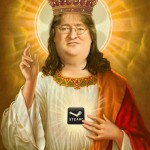 If you follow reddit, you might have saw this post yesterday in response to data collected by VAC related to cheaters:
http://www.reddit.com/r/gaming/comments/1y70ej/valve_vac_and_trust/
It does appear to be a well timed release due to all the payhacks/botnetware/cheats (sometimes) ruining aspects of gameplay on Rust.
I'm sure that it also points to cheating in CS:GO, among other games. It's just good to hear Valve is on the defensive with these hacks.
See you in Rust!